---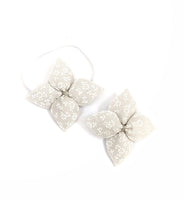 Fabric Flower- Taupe Tiny Flower
Georgie Sue Boutique
Regular price R 85.00
Tax included.
This flower headband is a different take on our signature leather band. The flower in this one is created from different fabrics backed in felt. There is still the hint of sparkle yearn in the centre. The perfect finish to any outfit.
This Flower is a Taupe Fabric featuring a tiny white flower with a white headband.
All of our fabric flowers are made from 100% cotton fabrics of the highest quality. They are backed in felt which makes them super soft and light. The flower sits close to the head and come on a choice of either a colour coded clip or a nylon headband. Our flowers are also scotch guarded to prevent staining.
Our nylon headbands are handmade in the softest, stretchiest fabric (with great recovery so they do not stretch out of shape). Their stretch makes them suitable from birth to adult so they are perfect for Mommy and Me looks. Their softness makes them ideal for babies.
Please remember that although our bands are super soft and stretchy it is still recommended that they be removed before putting your baby down to sleep.
Please note that, as with all of our products, our headbands are handmade so please allow for slight variances in prints or patterns where applicable and colour (due to differing screen settings).